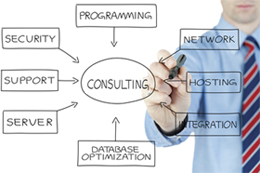 Consulting
CCS technology consultants provide expertise at the intersection of business and technology, supporting our clients in enhancing competitiveness and creating new sources of economic value. Our consultants work with clients like you seeking to close the gap between business and information technology.
The Application Management Services (AMS) team has inherent business expertise across sectors like FMCG, Defence, Retail, Manufacturing, Healthcare etc. Our consultants have demonstrated experience creating value for clients and together with our proven assets, methodology, partnerships and research capabilities, we act as a trusted business advisor to our clients.
Experienced CCS consultants provide support for product evaluations such as:
Hardware.

Software.

ERP solutions.

Data bases.

Operating systems.
These evaluations are 'made to measure' for the needs of your company.
CCS On-site Proof of Concept
After a product evaluation, typically a short list with two to four preferred products results. The CCS on-site proof of concept (PoC) supplies all necessary information as a basis for the best possible purchase decision and in accordance with the customer's existing needs and infrastructure.
Risk minimization for decision makers.

Validation of critical requirements before the purchase execution.

Product test in realistic operational set-up.
Project Management
Experienced CCS project manager lead important projects for our customers successfully and to the target for: